The holidays are here and after a tough 2020, it's time to end the year on a high note and celebrate the season with the best baseball gifts and softball gifts of the year from the team at Tanner Tees. We have hand-selected some solid gift ideas that will help baseball/softball players and coaches raise their game to new heights. We offer training options at every budget level for every kind of player, let's find the best gift option and essentials for your favorite player to help them create a completely personalized training regimen!
Tanner Batting Tees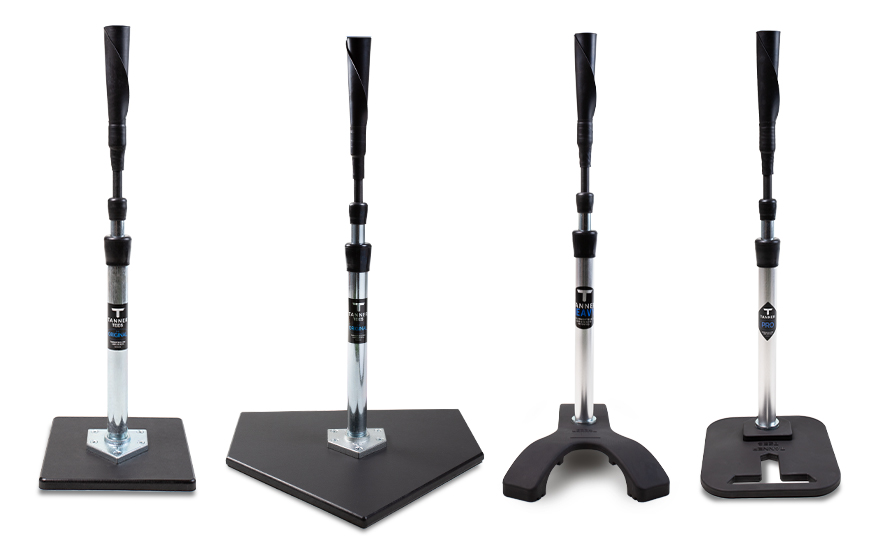 Batting tees are the #1 batting training aid in baseball and softball and for good reason. They are used at every practice at every skill level, even the major leagues. Hitting Tees allow everyone from youth players to beginners, to pros to work on basic fundamentals and complex hitting drills alike. By practicing with a batting tee, you can get in a lot of reps and improve your batting technique as well as build muscle memory at home or at a field, making this one of the best baseball gifts of the season.
Tip: Every team needs more tees, and every coach will appreciate a new one making it the perfect gift idea to support your favorite team.
All batting tees are not built the same. A training product that gets this much use (and gets hit with bat strikes by players still learning to hit) must be built with strong metal sections and a flexible rolled top. A premium tee may cost more than the all-rubber ones you may have seen, but our team of tee assemblers and cone rollers will ensure you get the highest quality product available - one that lasts for years to come. With four models to choose from, there's a Tanner Tee just right for the player on your gift list. Contact us and we will answer every question you may have about batting tees and all of our best baseball gifts!
Tanner Performance Apparel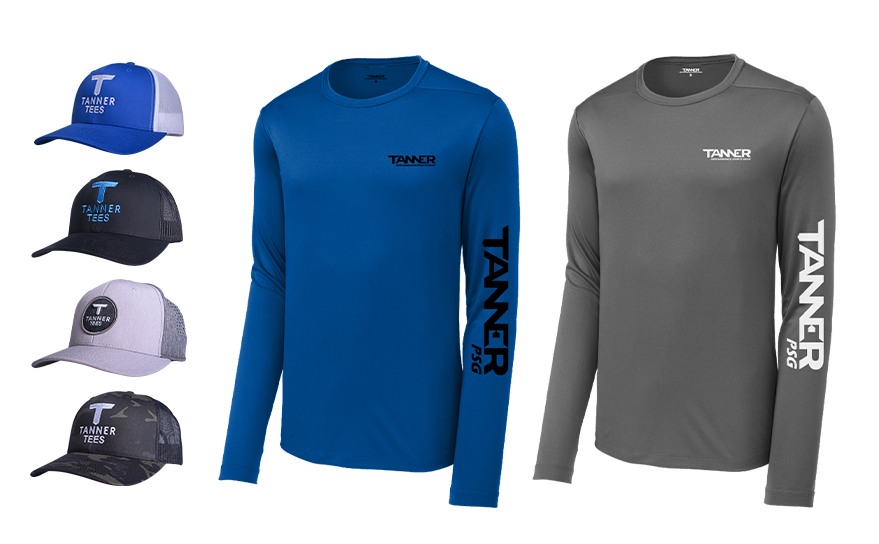 Aside from essential equipment and training aids, perhaps nothing is more appreciated by players than the right training gear and apparel for workouts. Tanner offers a wide range of lightweight, comfortable performance tee-shirts, long-sleeve shirts, and baseball caps. The long sleeves tech shirts are sun-safe, active tops, which is a great gift idea for your baseball coach, it's sure to bring a smile to his face. The short sleeves training tee shirts are comfortable, look great in a pairing, and breathe during workouts making it your new favorite baseball attire, also comfortable for everyday wear as a sports fan.
Tanner Batting Gloves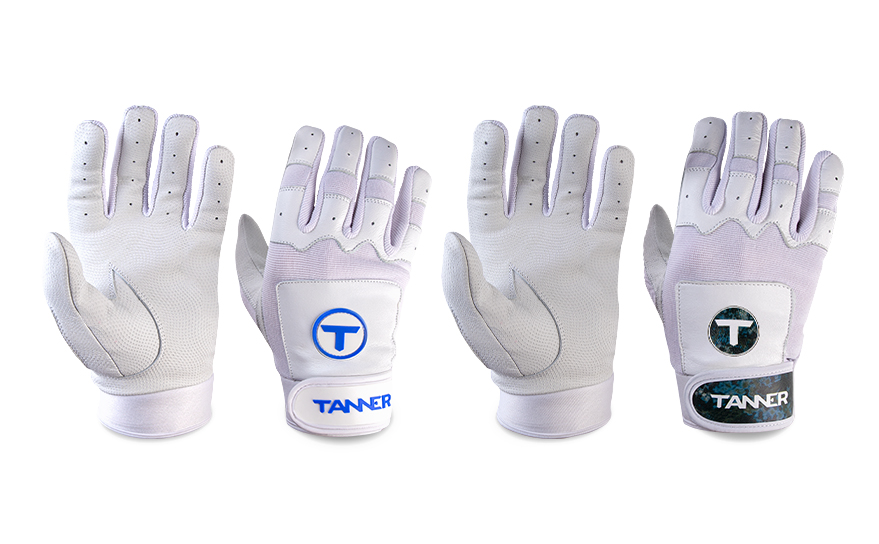 In our view batting gloves serve two purposes only: protection and comfort. You won't find baseball gloves with big designs, fluorescent colors, or team colors from Tanner, but you will find a very comfortable, premium baseball glove designed for heavy use, making them one of the best baseball gifts for your special player.
Tanner batting gloves are premium gloves at a mid-level price point. Give them a try this season for your ball games.
Tanner Hitting Deck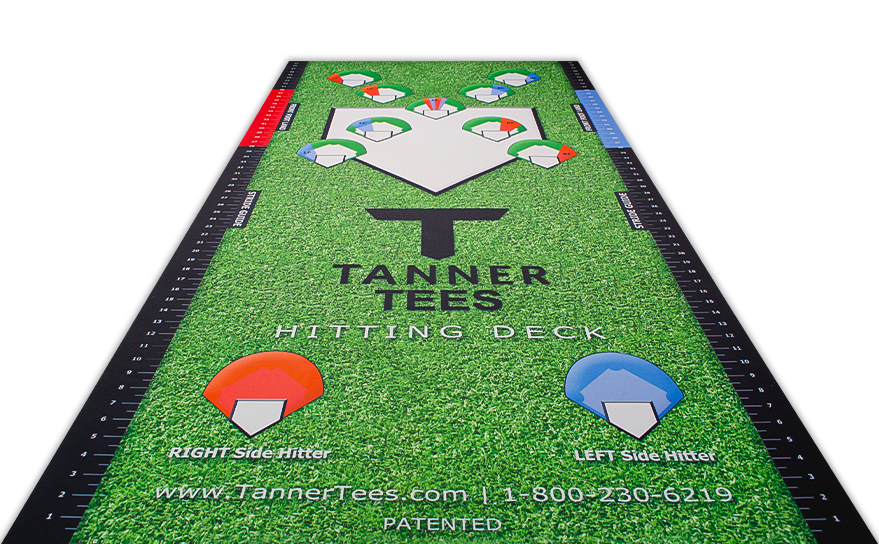 Let the Tanner Hitting Deck help your hitters visualize contact positions in relation to pitch locations. (We don't want kids moving closer to the plate to make an outside-placed tee position appear easier to hit.)
The easy to use Stride Guide shows the hitter where to stand at the plate and where to place their front foot. For tee work, the visual diagrams show where to (correctly) place your tee for hitting different pitch locations. The Hitting Deck home plate is regulation size and serves as a great target for accurate flips, front toss and batting practice. It's a great hitting tool that augments training and absolutely helps coaches with their lessons and baseball players with their practices and baseball games.
Tanner Heavy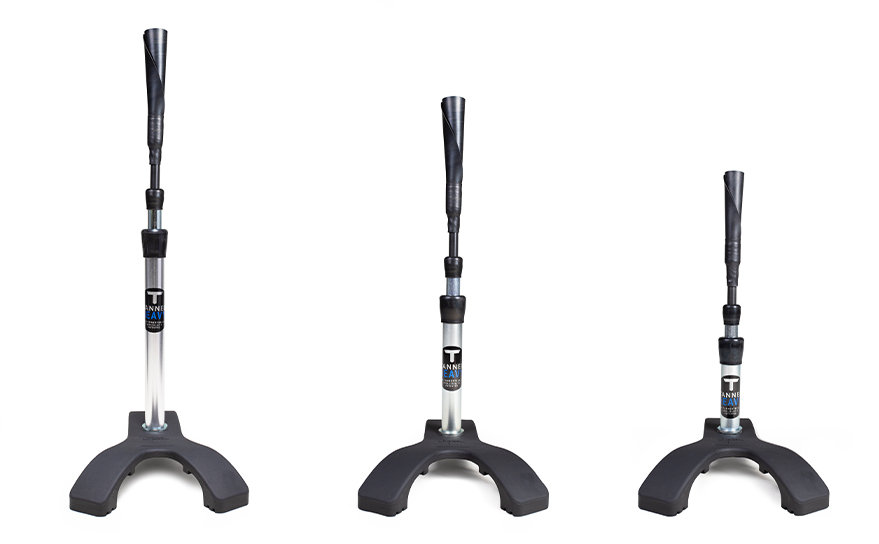 When searching for the best baseball gifts for your ballplayers you will want to consider a durable batting tee that will last year after year with a base that performs even better than a weighted, flat base, the Tanner Heavy is your kind of tee. Its unique construction features a 10 lb. "claw" that provides stability on any hitting surface and is ideal for hitting in cages or facilities with throw down rubber home plates. The Heavy Tee does not tip, creep, walk, or lean.
The Tanner Heavy is a solid investment in your loved one's baseball or softball future.
Tanner Rubber Training Balls (Soft)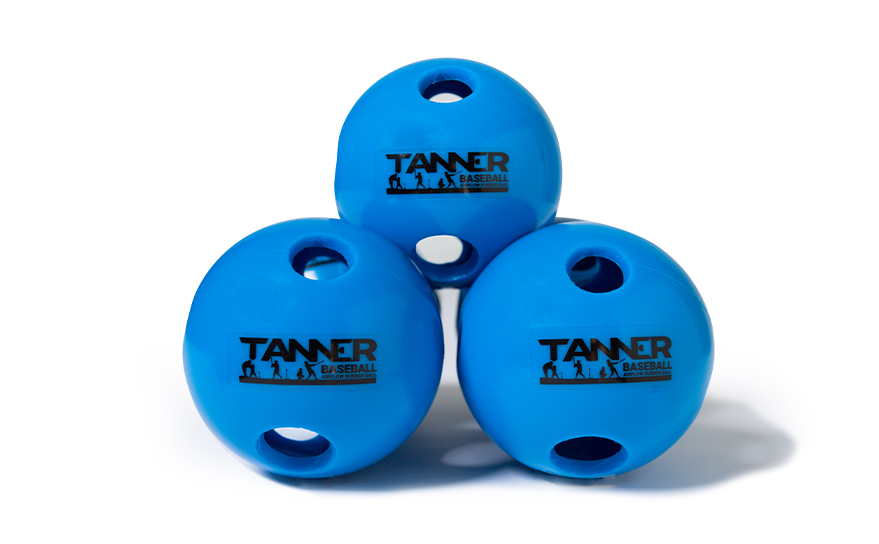 These 2.5-oz light airflow rubber training balls are hollow and durable. Specifically designed for going limited distances no matter how hard you hit them, they are perfect for tee training, front toss, and flips. Spend more time hitting and less time chasing (and avoid broken windows at home). Also, good for teaching tee-ball and youth baseball players how to catch if they are a bit nervous about even a soft rubber tee-ball.
For more information, be sure to check out: Using Soft Rubber Practice & Training Baseballs to Build Skills
Tanner Rubber Training Balls (Weighted)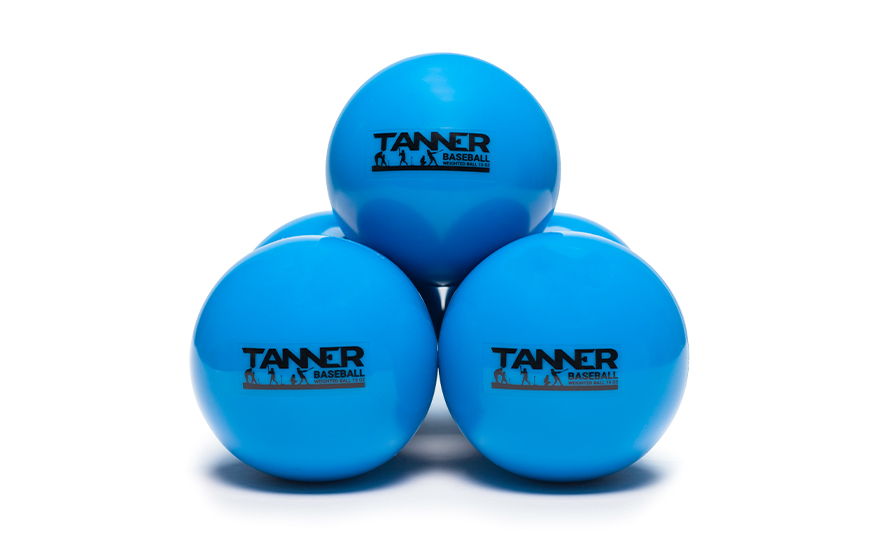 Made of durable, thick rubber with a weighted core, these 15-oz training balls are best for front toss and flips, but can be used for #teework as well. Squaring up a weighted core training ball is evident in the flight of the ball after contact. If you just "glance it", it drops weakly to the ground. If you hit the sweet spot of the ball, you'll see it fly farther and really feel the solid connection too offering a complete batting experience.
Weighted baseballs can also be used in supervised arm care routines for pitchers and field players.
For more information, check out: Using Weighted Baseballs When Training.
Tanner Small Baseballs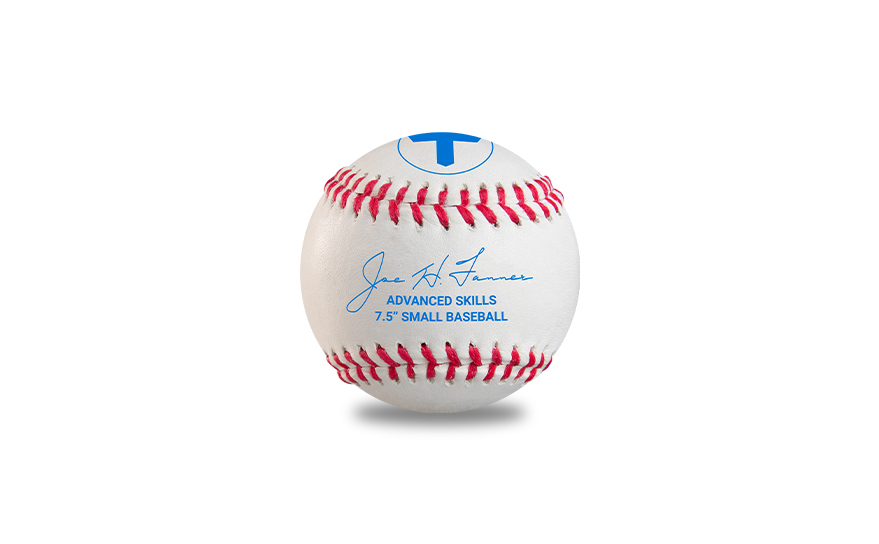 7.5 inch smaller baseballs are a great way to make routine hitting drills more complex. Small balls force hitters to control the bat barrel and concentrate on a swing path and mechanics that get the sweet spot of the bat to the sweet spot of the smaller baseball. Try a dozen mini baseballs this holiday and allow a smaller target to improve hand-eye coordination, pitch tracking, and barrel control. They are made with genuine leather, a cork center, and fit nicely on any Tanner Tee for #teework too.
Pitcher's Pocket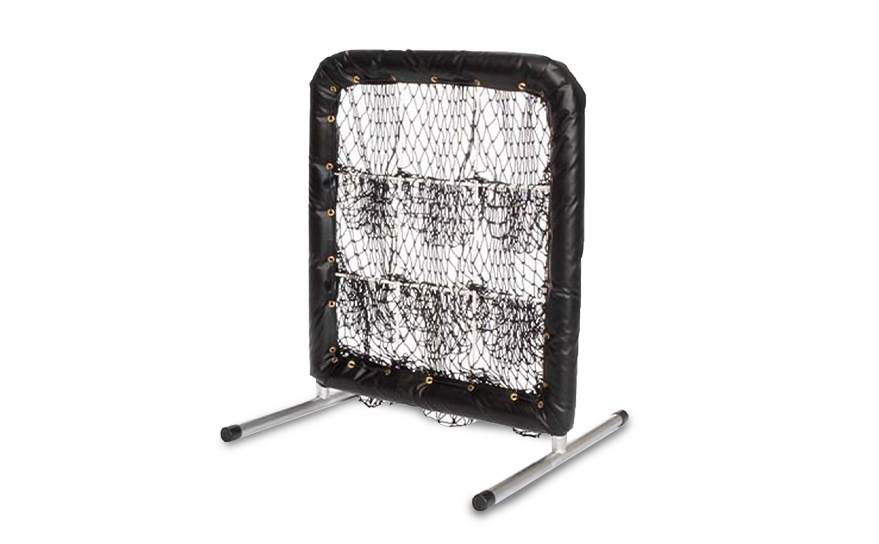 Designed by baseball and softball pitchers, the Pitcher's Pocket helps youth pitchers throw strikes, and top-level pitchers dial in their command. The Pitcher's Pocket features nine individual pockets that allow for true accountability as the player or coach can count the balls inside the individual pockets after a workout and determine what targets were hit or missed. Numerous games or scenario-driven training can be devised by coaches and perfect for pitchers that want the opportunity to get a workout during baseball practice when no catchers are available.
To read more about the Pitcher's Pocket, check out: The 9 Hole Pitching Net: Pitcher's Pocket.
Best baseball gifts
Everyone at Tanner Tee wishes you and yours a very merry and safe holiday season, as well as a happy 2021! Whether you are searching for a holiday gift, birthday gift, team gift, or just the overall best baseball gifts Taner Tees has something that is just right for your needs. We'll see you soon on the playing field to watch your baseball dreams come true!
Tanner Tee - The Original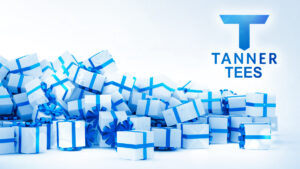 Our original hand-rolled, patented batting tee is the number one tee in the industry and has been tested in big league cages and hitting facilities for over 25 years.
Product SKU: TT001, TT002, TT003
Product Brand: Tanner Tees
Product Currency: $